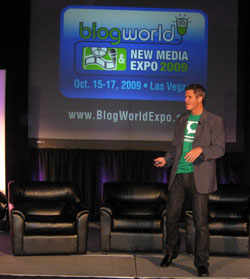 Day two of the BlogWorld and New Media Expo is underway. We're listing to Richard Jalichandra, Technorati, give a preview of this year's State of the Blogosphere. It will be published next week.
They surveyed bloggers this past year and he's showing us some selected statistics. He started out by saying that the blogosphere is very healthy and contrary to media reports otherwise, bloggers are blogging even more than last year. Of the professional bloggers, 40 percent have worked in traditional media. He says, "Blogs are media." I fully agree with that.
I'll do my best to get an interview with him and update this post if I do.
Post Update: I caught Richard on his way out after his keynote address and you can listen to my interview with him here: bwe-09-jalichandra.mp3