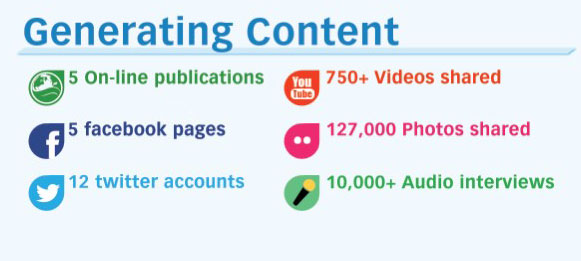 What we do best at ZimmComm New Media is create media content that can be used in a variety of ways by our clients – who include advertising and public relations agencies, agribusiness companies, media companies and agricultural member organizations.
Content production services include: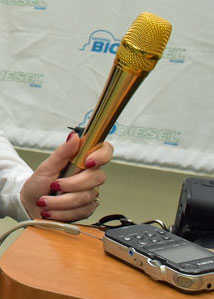 Audio –
Digital audio recording and editing of interviews and presentations, by phone or on-location, radio commercial production, podcasting.
Example: 170 Liberty Link Real Yield Radio spots produced for Bayer Crop Science
Photography – Digital hi-res photography, photojournalism style on-location, uploaded immediately to Flickr, simple fee structure with no copyright restrictions
Example: Over 150,000 photos in nearly 700 Flickr albums viewed over 17 million times.
Video – Our standard rate includes shooting web quality to be uploaded to YouTube, or livestreaming on FaceBook Live or Periscope.
Example: Nearly 900 YouTube videos viewed over 3 million times
Writing – News releases, newsletters, sponsored content articles, blog posting, social media posts – we write for you.
Example: I Am USFRA series of interviews and sponsored posts
Website development and management – We primarily develop websites using the industry leading software/cms WordPress as blogs that can be easily updated by the client. Our services include initial consultation, design, installation, hosting and training.
Example: Southern Peanut Farmers; Southeast AgNet; Corn Commentary
Social Media consulting – Want us to create your Twitter account? Set up your Facebook Fan Page? We can get it done and provide in-office or web based training for you and your staff.
Every job is different, but here are our standard rates:
On-location audio/photography/video production – $1,800/day plus expenses. This includes at least one ZimmComm representative equipped with digital SLR, audio recorder and web video camera.
Social media consulting – Most projects will be priced using our $175/hour rate with a quote issued on the estimated number of hours to complete.
Website – Most projects range between $1,500 to $6,000 depending on factors like using the WordPress.com service or installing a WordPress site to a custom domain/server.
Contact Chuck Zimmerman for more information.