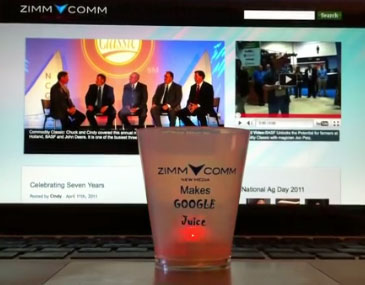 Clients have told us we make them very "Googlable" and that they hire us for the "Google juice" – which is one of the many ways @ZimmComm #TweetsURight! Not to tweet our own horn, but here's what some of our friends have to say about us:
@ACEEthanol – "The ZimmComm team has been Domestically Fueling the news for the #ethanol industry since2005. They cover everything from A (@Agriblogger) to Z (@Zimmcomm)!
Susanna Elliott @Alltech – "We can always count on @AgriBlogger and his team to tell great stories through their photography and interviews. It's been a delight to work with @ZimmComm for almost a decade now."
Jeff Donald with @Bayer4CropsUS – The sun never sets on the ag industry or seemingly on the @ZimmComm team. Seriously, I don't think they ever sleep. In an industry defined by work ethic, they consistently raise the bar.
@EthanolBob – #lovethegoldenmic
@Better_Seed – I always love having the @ZimmComm team at our meetings — not only because they're professional and I can trust them to get the job done, but also because they're genuinely fun to be around!
Kellie Worstel of @SwansonRussell – Always a pleasure to work with @ZimmComm. They're passionate about the #ag industry and provide a quality service to inform key audiences – and just #goodpeople in this business!
Karen Jones with @GROWMARK – .@ZimmComm provides great value and expertise in sharing our messages. Plus, Chuck and Cindy are great people!
@Biodiesel_Media – Thanks @AgriBlogger @FarmPodcaster for consistent, professional, impactful services, photography & coverage! Always a pleasure!
@mwestfall1 with @Bayer4CropsUS – @ZimmComm is the best! Our partnership makes everyone #soyexcited!
@MikeGelfond with @MasterMindings – @Agriblogger and @FarmPodcaster are a rare blend of subject matter expertise, media reach and best in class production, they are just a pleasure to work with.
Kelly Schwalbe @SageBrandKC – #Happy clients & great PR coverage guaranteed with @ZimmComm!
@FuelingGood – I've utilized the expertise of @ZimmComm for 4 years. From @Sturgis Rally to @EPA Hearings, no other group provides the full service. Book now!