ZimmComm New Media has designed and built blog sites for a variety of agribusiness companies and organizations. These websites have been created to publish content from an annual event or to serve as a simple and effective way to distribute regular information to customers and members. Besides blogs we have also created podcast series that serve to enhance a client's blog project or provide an additional channel of information distribution. ZimmComm has pioneered the use of these distribution channels in the agribusiness industry.
Here are some examples of ZimmComm New Media client projects. Click on the thumbnail images for a larger screen shot.
Blogs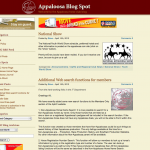 Appaloosa Horse Club – It's called the Appaloosa Blog Spot which is a cute play on words that describe this breed of horses. This is the official blog of the organization.

Welcome to AppaloosaBlogSpot.com! Our goal is to provide an informal resource for Appaloosa Horse Club news and information. A primary reason for establishing this news channel is to give technically challenged staff people (like me) the opportunity to post from events, meetings and activities without shuffling information and waiting in line to have items posted on the website.
We'll focus on keeping ApHC members up to date while offering some basic information about the who, what, when, where and why of ApHC activities and programs. You won't need a password, just an interest in the Appaloosa community.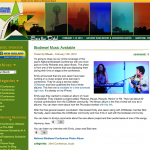 National Biodiesel Board – The Biodiesel Conference Blog chronicles all the activities of the annual National Biodiesel Conference.
This blog was one of the first created by ZimmComm New Media which has also been contracted to produce the multimedia content each year since the project started in 2005.

Chuck,
I am very pleased with the conference coverage and photo quality and would be very interested in booking YOU for next year's event in AZ. Is there any way I can get this on your calendar now to assure that we again have you on site? It is Feb 6-9 in Phoenix.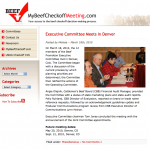 Cattlemen's Beef Board – MyBeefCheckoff Meeting is utilized by the CBB to document and present the events happening during the organization's regular meetings, in particular those conducted at the Cattle Industry Summer Conference and Cattle Industry Convention.
This is a producer communications focused website that also includes links to all the organization's committee meeting agendas and minutes. It was designed to provide cattlemen with an online resource to see what happens at these meetings and making the checkoff management process completely transparent.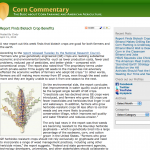 National Corn Growers Association – Corn Commentary is the official blog of NCGA and is utilized as an outlet to write about topics and issues important to corn growers and their customers.

Welcome to Corn Commentary, sponsored by the National Corn Growers Association. We created this blog to provide a lighter, more personalized look at corn, agriculture and the events of the day that affect the nation's corn producers. Sometimes we'll update you on the latest news, sometimes we'll step back for some quiet reflection, but it will always be seasoned with the knowledge and perspective you've come to expect from NCGA.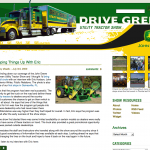 John Deere – When John Deere started the Drive Green Utility Tractor Show they wanted a way to distribute timely information in a search engine optimized online environment. The Show blog was developed to help promote events and integrated social networking tools like Twitter, Facebook, Flickr and YouTube.

The Drive Green Tractor Show is a program designed to give rural property owners, agricultural producers and other interested consumers a chance to operate and ask questions about the latest models of utility and compact utility tractors being launched by John Deere. The company-sponsored Drive Green Program includes special equipment displays and ride-and-drive events at more than 45 currently scheduled locations starting in the Southeast.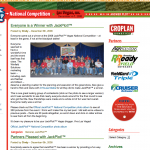 Croplan Genetics – When AgriSolutions and Croplan Genetics wanted a way to hype the finals competition of their JackPlot board game in Las Vegas they decided on a ZimmComm blog including having ZimmComm attend the event and live blog it.

The Answer Plot® Experience
You plan and implement your crop production strategies year-round to maximize yield in the face of ever-rising input costs. You're successful, but are always looking for ways to improve. You need answers to tough questions. The Answer Plot® experience is your year-round resource for local agronomic, seed and crop production expertise, strategies and information.

Indiana Family Farms – After ZimmComm developed a blog for Hoosier Ag Today (HAT Chat), we were called on to create a new blog project for a grant project to showcase Indiana agriculture.

Welcome to Indiana Family Farms. This web site is your personal introduction to some of the men and woman who make up the Indiana livestock industry. Most Hoosiers have not visited a dairy farm or spent time on a beef or pork operation. Most people have never met a farmer. This is a chance for you to do both – visit a livestock farm and meet the people who own and operate them.
With just the click of a mouse, you can see the animals and listen to the men and woman tell their stories. They will share with you their values, methods of production, and hopes for the future. These are real farm families telling their story in their own words. Come and meet the people who put the meat in your meat case and the milk, cheese, yogurt, and ice cream in your dairy case. This site was made possible by a grant from the Indiana State Department of Agriculture.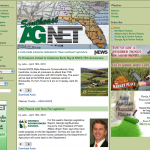 Southeast AgNet – This multi channel media company in "the deep southeast" needed to create a website to complement its farm radio network, magazines and Citrus Expo. This may be a blog but it is also the company website which helps show how versatile the blog format can be.

Southeast AgNet is owned by the husband and wife team of Gary Cooper and Robin Loftin. Learn more about the Company and how it got started by viewing this 'history' of the company (pdf).

ZimmComm has conducted multiple training sessions for all the company's editors who post regular news content onto the site.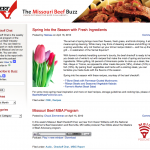 Missouri Beef Industry Council – The Missouri Beef Buzz was the first outside blog project for ZimmComm New Media. Initially this blog was meant as a producer communications tool to keep Missouri beef producers informed about the activities funded by their Checkoff dollar.
However, the MBIC soon learned via web statistics that a lot of consumers were visiting the website and finding the information useful. The content direction then changed to include both producers and consumers.
Now you will find information posted regularly on the promotions of the Beef Checkoff as well as interviews with Missouri beef producers. ZimmComm has assisted with the regular production and posting of content on the website. This includes a weekly podcast which is described below.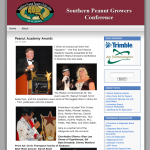 Southeastern Peanut Growers Conference – This annual event is coordinated by the Alabama Peanut Producers Association, Florida Peanut Producers Association, Georgia Peanut Commission and Mississippi Peanut Growers Association. They wanted a blog to communicate the information and activities from the event.

The conference offers farmers an opportunity to learn more about legislative issues, peanut research and promotions.
In addition to the conference sessions the event focuses on the family by offering a kids program and a ladies program. The kids and ladies program will be similar to previous conferences. There is also a golf tournament.

Podcasts
"The Ethanol Report" has been the official podcast of the Renewable Fuels Association (RFA) since fall of 2007. The podcasts are updated at least twice a month with interviews on timely biofuels related topics, sent by email to agricultural journalists and posted on Domestic Fuel.
Matt, Just got the audio feed you guys put out through AgNewsWire…. Just want to let you know that I really like these feeds and can always use more of them whenever events dictate. Thanks much…I plan to run this one on our network Thursday morning.Ethanol Report
ZimmComm has been producing "Forage Forum" for Pioneer since June of 2006. The twice monthly report focuses on information important "for dairy professionals working for successful animal nutrition." The podcasts are posted on Pioneer's website and on World Dairy Diary.
In this "must hear" Forage Forum, Pioneer nutritional sciences manager Bill Mahanna discusses inoculant application technology and how drastically it has changed over the past 30 years. Forage Forum