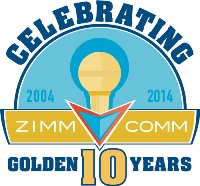 ZimmComm New Media was founded in April 2004 by Chuck and Cindy Zimmerman. The company's first product offering was the "Talking News Release," providing audio production and distribution for clients to send sound bites or interviews with press releases.
The foray into new media was made accidentally when designing a website for the new company. Chuck found that using blogging software made a website that was simple and easy to update and allowed him to utilize photos, audio and even video. AgWired.com was launched in August 2004 and quickly became the company's flagship website, focused on news and information from the world of agribusiness. Other websites followed, including AgNewsWire.com which became the news service distribution website; DomesticFuel.com, which developed as a news service for the ethanol and biodiesel industry and is now called Energy.AgWired; and Precision.AgWired, which was originally developed as a precision ag site for John Deere.
ZimmComm also started developing websites using blogging software for event coverage. One of the first was World Dairy Diary, which was started for World Dairy Expo and became a general dairy industry information site. It was relaunched in 2014 as Animal.AgWired to encompass all of the animal agriculture industry. In 2006, the National Biodiesel Board hired ZimmComm to develop a blog for their annual conference and to post photos, presentations, interviews and video from the event. Similar sites were developed for the Cattlemen's Beef Board and the Southern Peanut Growers Conference. High quality photography also became an important part of ZimmComm's services for clients.
ZimmComm has pioneered the use of social media – including blogs, podcasts, and tools like Flickr, Facebook, YouTube and Twitter – to communicate information to industry, members and the general public for a variety of organizations and companies, mainly in the agribusiness world. The company has coined and developed the terms "agriblogging," "farmpodcasting," and "event blogging." In addition to providing internet-based communications services, ZimmComm also does presentations and consultation on using social media for marketing and communications.