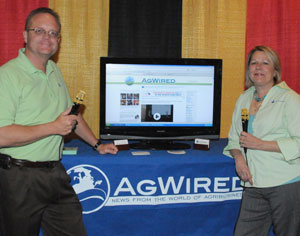 ZimmComm New Media, LLC is owned by Chuck and Cindy Zimmerman. The company is located in Cantonment, FL.
Contact ZimmComm New Media
ZimmComm Services
ZimmComm Team
ZimmComm is a "new media" company that specializes in blogging, podcasting for the agricultural industry. The company also operates a customized news release production and distribution business called AgNewsWire which features their patented Talking News Releases. If you want to use the internet to reach your customers and members then give the pioneering experts a call today.
Besides creating and managing blogs and podcasts for clients, ZimmComm also publishes a few of their own like "AgWired," which focuses on what's new in the world of agribusiness, targeting agricultural marketing & communications professionals. Other ZimmComm industry news blogs include: World Dairy Diary, the world dairy business blog and DomesticFuel, renewable fuel news. Advertising and promotional opportunities are available on all of these online publications.
Chuck and Cindy are members of the National Agri-Marketing Association, National Association of Farm Broadcasting, American Agricultural Editors Association, Livestock Publications Council, Agricultural Relations Council and the International Federation of Agricultural Journalists.