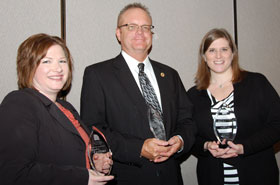 Chuck Zimmerman, better known to many as @agriblogger on Twitter, was honored to receive one of the National Agri-Marketing Association's 2012 Professional Development Awards of Excellence during the Trends in Agriculture conference last week in Kansas City. Chuck received the award for Excellence in Public Relations.
In good company, Chuck was honored with Stephanie Gable (left) of Novus International for Product/Species Management and Margaret Fogarty, Farm Credit for Marketing Communications. The fourth winner in the Sales category was Sue Lee of Farm Journal Media who is not pictured because she was attending another meeting. All are well deserving of the honors.
Here's what NAMA had to say about Chuck:
From on-line photo album development for key industry events, to news reporting and media liaison activities for various commercial clients, to 'blogging' his way across the land, Chuck has become a common sight at just about any type of meeting or event in the agriculture industry. He has also done a great deal to get many others involved in new media endeavors.
ZimmComm's primary website, www.AgWired.com, continues to grow in web traffic and involvement by industry professionals and agriculturists alike. He regularly crisscrosses the country from one event to the next, hired by PR professionals and companies of all types and sizes to perform a specific but expanding list of New Media, Social Media and related Public Relations services.
As part of the ZimmComm, Inc. business model, Chuck has developed numerous websites, some of which are focused on one commodity or industry enterprise. Some have become very viable website "channels" for a specific industry purpose. Some of these websites are owned by ZimmComm, Inc. and others are built and maintained by ZimmComm on a contractual basis for their clients. Many of these website concepts were born out of brainstorming about a specific challenge or need in the industry, and then developing a web presence to serve that need.
Chuck has been active in NAMA throughout his career and he continues his membership in a very active way now in his role representing his own company, ZimmComm, Inc. He has given countless hours and days to NAMA service in many, many ways over the years. He has always been active in his local chapters, and has been involved in program planning and leadership at local levels. He is currently a nominee to the Executive Committee.
Stephanie turned the tables on Chuck and interviewed him about his award. Listen to that here: Stephanie Interviews Chuck