Comments Off

on What is Google Juice?
Posted by
Cindy
– April 27th, 2011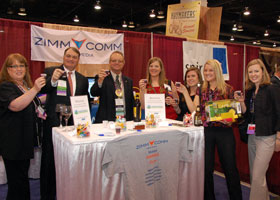 Google Juice was the theme for our booth at the 2011 National Agri-Marketing Conference to show people how SEO our websites really are. We had Google Juice t-shirts and blinking Google Juice shot glasses among other goodies with the message that "ZimmComm Makes Google Juice."
I have to give credit for the inspiration to Mike Deering with the National Cattlemen's Beef Board, since the first time I ever heard the phrase was from him describing why he wanted us to cover an event for them. Then at Commodity Classic Nick Fassler with BASF told me that all the interviews and stories we had done with him on AgWired had made him very "Google-able."
So I looked up the term "Google Juice" and the best definition I found was: "the mysterious quality that causes pages to come up high in a Google search." That works for me, because we really don't know why posts on our websites tend to often show up on top in Google searches, but they do. Pat Morrow with BASF agreed with that. "It's true! If I Google for Kip Cullers BASF, AgWired is all over the first page," Pat told us at NAMA. We also rank high in searches for photos, video and news on Google.
Why it works has much to do with how much content we post and the flow of hyperlinks between our sites and others. We don't do anything special and we don't pay anything for our websites to rank high on Google searches, but we know that our clients like it.
Another shot of Google Juice, anyone?