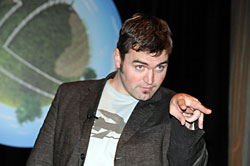 The theme of this year's NAMA Trends In Agriculture conference was Agriculture in a Globally Local World. We heard from multiple presenters who focused on food trends as well as farm policy.
One of our presenters, Joseph Rueter, Curation Station, talked about digital brand communities. He suggested that companies tell a good story and give their customers a reason to want to be involved with the community.
You can see what you missed in pictures.
Thanks to Quarry Integrated Communications for their sponsorship of AgWired coverage of the conference.