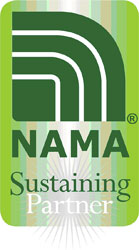 ZimmComm New Media is proud to become a Sustaining Sponsor of the National Agri-Marketing Association. We've always been an advocate and encourage anyone involved in agricultural marketing and communications to join and get involved.
As a sustaining sponsor you can count on even more information about NAMA activities and news about the industry we all know and love. If your company would like to provide more long term support for NAMA then just give Jenny a call at the NAMA office.
Under Jenny's leadership NAMA has continued to grow and evolve to serve its members. If you ask most members they'll tell you that the annual convention and other activities are extremely important to them professionally and personally. We echo that. Just the opportunity to network with friends and clients alone makes it worth the investment.