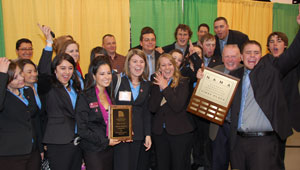 The students of today will be the agrimarketing professionals of tomorrow. That's why we support them and especially those involved in the student marketing competition at the National Agri-Marketing Conference. You'll find lots of photos of students who attended this year's conference in our photo album.
The Aggies of New Mexico State University were the winners of this year's competition. This is the second time the Aggies have won the top honors, but it has been awhile – so they were celebrating big time!
You can watch a short video of their team right after they were announced.
Other top winners in the student NAMA awards included Abraham Baldwin Agricultural College, which took first place for Outstanding Student Chapter; and Iowa State University, which received first place and $3000 for their chapter as the John Deere Signature Award winners; and Mike Gustafson regained his title as "Hard Ass" judge of the year – three times in the past four years!
Congrats to all the winners!
2010 National Agri-Marketing Conference Photo Album
ZimmComm would like to thank Successful Farming for sponsoring coverage of the NAMA Conention on AgWired.