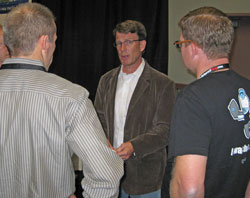 Chris Baggott, Compendium Blogware, provided the most clear reasons for why companies should be blogging that I've heard in a while. If you value how your business or brand shows up in search results then having a blog is the best way to improve your results. He quoted a study by HubSpot that showed that companies that have blogs have significantly higher traffic, link and indexing.
He says that not only do blogs increase your searchability but also your results because you're making the searcher happier. He says to remember that social media is about people. It's about human beings and blogs help articulate the humanity of the organization.
Chris is seen in the photo talking with some BlogWorld participants after his talk.
Listen to my interview with Chris here: bwe-09-baggot.mp3